In Memoriam
Former Sen. Daniel K. Akaka, the ambassador of Aloha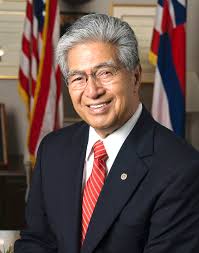 When Daniel Kahikina Akaka, 93, passed away April 6, the world mourned the loss of a great Statesman, the first native Hawaiian to serve in the U.S. Senate.
His death made headline news on the Mainland, New York Times, Washington Post, CNN, NBC. The media heralded the beloved Democratic Senator's career, but glossed over an important detail known mostly to those in Hawai'i: his music.
The youngest of eight was quite musical. Akaka went to Kamehameha Schools, graduated from UH in 1952 with an education degree, and became a teacher. A multi-instrumentalist, he taught band in school and was a long-time member of the musicians union.
Of Hawaiian and Chinese descent, the former, retired senator was much more than a local hero, he embodied true Aloha spirit.
During an impressive 36-year tenure on Capitol Hill, Akaka championed native Hawaiians and Asian-Americans in trying, historic times.
He was largely responsible for getting the 1993 Apology Resolution passed. A major part of the Resolution involved then-President Bill Clinton signing off on a governmental apology for the wrongful, Jan. 17, 1893 U.S. overthrow of the Hawai'i monarchy. He'd hoped to do more, with his Native Hawaiian Government Reorganization Act, which would've given Hawaiians substantive recognition as an indigenous people, afforded the same federal benefits as native Americans.
As a fellow World War II vet, Sen. Akaka tried to do right by Asian-Americans/Asians who went into battle for the U.S. In 1996, he sponsored legislation that would finally recognize Asian-American vets from the valiant 442nd Regimental Combat Team/100th Infantry Battalion with Medals of Honor, some posthumously. Through his legislative efforts, he also helped members of the Philippine Scouts — a part of the U.S. Army unit — receive one-time benefits denied them by the Veterans Administration.
Akaka's memoir, "One Voice," came out last year in October.
—Carol Banks Weber
From the Spring/Summer 2018 issue, Ke Ola O Na Mele