MEMBER SPOTLIGHT
DeShannon Higa: The last Democratic Jazz Artist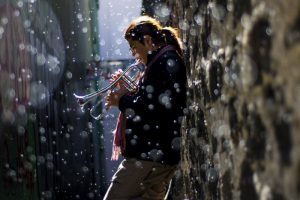 Throw any style at trumpeter DeShannon Higa, and he'll run with it. More than likely, the Hilo native has already led the charge.
A union member since 1994, the Honolulu-based Higa has mastered his own style of Democratic jazz, enveloping the traditional with the modern, EDM, acid music, and now, the lavish scale of the orchestral. Whatever he's digging at the moment soon turns into a riotous, glorious movement, adding street cred to a provincial network usually five-10 years behind the times.
Higa's a first-call session musician, as well as an unconventional, big-name solo artist, oozing versatility, groove, innovation, and glam appeal. Unlike a ton of standard jazz musicians who tend to hug the curves of a shapely melody, content to stay well inside their safe space, he cuts through to the bone, the very DNA of a song's first breath — a trait that puts him in good standing with both traditional and modern players.
Mentored by legendary trumpeters — among them, Ollie Mitchell of the famed L.A. Wrecking Crew, and Harry Connick Jr.'s lead player, Roger Ingram — Higa has the distinction of playing with Burt Bacharach, Diana Krall, Wynton Marsalis, Al Jarreau, Joe Williams, Wayne Newton, and Tower of Power, to name just a few stars.
If there's a jazz festival in town, chances are he's on it. It's the same with major recordings and major tours with major artists, including Na Hoku Hanohano award winners Jake Shimabukuro, Keali'i Reichel, Fiji, Jimmy Borges, Raiatea Helm, and Hula Joe & the Hutjumpers.
When he's not touring the world over with the Royal Hawaiian Band, he's out trying to make a difference in Hawaii's music scene with other bands and his own, notably DownBeat's four-star favorite, Bop Tribal, his urban jazz/electronica dance group, gr00ve.imProV.arTiSts, and Quadpod, his neo-bop quartet.
Ke Ola O Na Mele got DeShannon Higa to talk story recently, in between his gigs and his upcoming, GoFundMe solo studio album, Words Cannot Express, currently in the works.
You're a union member. In a time when so many musicians go rogue — every man for himself — why stick around?
I've been a member since 1994, pretty much right out of college. When the union functions as it should, it protects the rights of all its members, providing fair wages, safe and adequate working conditions, health benefits, and a pension. It also provides some work opportunities that would not be available elsewhere. This is the primary reason for me to stay in. I get calls for jobs I wouldn't get anywhere else.
You're also one of those steady horn players who always snags prime, first-call gigs, whether it's Mike Lewis's Big Band, the inaugural 2010 Pacific Rim Jazz Festival, the Blue Note in Waikiki, or Jimmy Borges' Na Hoku-winning final album. Your technical ability and feel for the grooves are a given. What gives you that edge?
My mentor, [the late] Ollie Mitchell used to tell me, "Practice the hard things until they become easy." That's for technique. Regarding feel, I try to get to the core of the groove, to feel it from the inside out, trying to understand its heartbeat. If I can do that, then I can be in sync with its foundation, and therefore its soul.
How did you feel when the late Jimmy Borges called on you for his last album, knowing that his time was limited (cancer had spread to the lungs)? He said that you were such an asset on his recording, you gave the music a modern, edgy vibe.
I was extremely honored that he asked me to do it. Funny story, when I met with him about it shortly after he asked me, I asked for the music, so I could get a head's up on the material. I thought he was going to give me a couple of lead sheets. Instead, he handed me a stack of music. I asked him in bewilderment, "How many songs do you want me to play on?" His reply, "All of them!"
What has performing with the great Borges done to influence your own musical trajectory and career?
I've watched him, studied him. He was deceptively good. His technique was flawless and his rapport with the audience unequaled. But what impressed me the most was how effortless he was in both. It's something I've strived to achieve ever since. He has definitely inspired me to become a better musician and entertainer.
You've played at the new Blue Note in Waikiki. How's it been over there? A lot of traffic? Hopefully, the reception's kept up with the quality of headliners.
I enjoy playing at the Blue Note because, well, it's the Blue Note. Its reputation precedes itself and therefore makes it a very prestigious jazz club to play in. Every chance I get to play there, I try to perform at a level that is worthy of the stage I am on. Unlike some other venues in town, at the Blue Note, the audience is there to listen, really listen. That makes it fun for musicians like me. They want to know what we have to say. They want to understand it, appreciate it, savor it. As an artist, I can't ask for more than that.
Musicians love your ease within all styles, from traditional jazz to that acid jazz you introduced a few years ago with Bop Tribal, just one of your bands. How would you describe what you do?
What I do now is a culmination of what I've done throughout my career, and that is to bring to the audience the very best of the music that is in my soul at any particular time. Life is a journey, and a music career takes you to many places, through different styles and genres if you let it, if your audience lets you. I've gone through my bebop and hard bop phase, cool and minimal phase, Latin and funk, ECM and abstract, acid jazz and hip-hop phase. Where I am currently is more cinematic and orchestrated, I would say. Lately, I've been really stretching my wings in writing. I've been arranging for concert bands, big bands, and of course, my eight-piece band, Subtonic Orchestra, so having more voices, textures, and colors to write for really gives me much more freedom to explore. I'm having a ball developing new skills. I just can't stand still and retread old roads. I need to always move ahead.
You've also been working on crowdfunding a new album. How's that coming along?
It has taken me a long time to get to this point. I started two years ago and am only now into the mixing phase of the album. When you're doing an album by yourself — producing, arranging, coordinating, editing, playing — the process becomes much slower than if you had a team. I've had to do it this way out of necessity. The great thing about it though is that the music is not compromised. Every step of the way, I am heavily involved in making sure what I hear is exactly what I want to hear. I believe it will pay off. I'm very proud of it up to this point. This album is gonna sparkle, and I have great supporters and friends who have contributed to my album to thank for that!
You could easily branch out on the Mainland. You've done great work in New York City, playing Carnegie Hall, Birdland, Radio City Music Hall, and Lincoln Center, and with a ton of big names. What keeps you playing in the islands?
It's a calling really. New York was a proving ground for me. I needed it. It both validated and improved me. It brought my playing into sharp focus. I believe all that I gained and learned in New York, the richness of knowledge and experience has helped me to infect the islands with some of that same inspiration and energy.
What's the music scene like in Hawaii right now? How have you managed to survive and thrive as a working musician? Obviously, being in the Royal Hawaiian Band helps.
Thank God for the Royal Hawaiian Band! If I did not have that as my main source of income, I would undoubtedly have to move away from Hawaii. Being in the RHB has afforded me the option to say no to certain gigs that I felt were not right for me and focus on the gigs that I really wanted to do, the type that brings my skills and musical sensibilities to bear.
You're one of the few musicians in Hawaii able to raise the game, and break free from the usual Top 40 Jawaiian rotation. What's your dream for the islands you grew up in?
I am the way I am because I was exposed to many different kinds of music, at the highest levels. My dream for Hawaii is that she embrace the arts the way the bigger cities like New York, Tokyo, Shanghai, and Paris do. We have no less than 20 countries represented in Hawaii and yet the genre of music is predominantly Hawaiian and Island Music. Nothing wrong with either, but there is much more room for other types to thrive here. I would like to be a part of a cultural revolution here, or maybe more accurately, a renaissance — a fertile ground where all the arts flourish, where creativity is encouraged, demanded, celebrated, and funded, both by the public and private sectors. What we need to get that going is education, inspiration, belief, mentorship, a strong work ethic, and the support of the general population.
You actually started off wanting to learn drums. Did you learn later on? If so, how has your percussive knowledge informed your compositions, the covers?
I have dabbled a bit with percussion instruments and drums. Where I really get my kicks in rhythm though are in electronic music and DJ-produced beats. Using drum pads, midi, and software like Ableton Live, I can program, tweak, and glitch any rhythm I want into incomprehensibly difficult, yet cool, grooves, grooves that I would never be able to play in the real world on real drums, no matter how hard I practiced. It's how I wrote half of the songs on my upcoming album. The rhythms that I came up with had a direct effect on the composition of those songs. Some of those beats informed my session drummers. Others I superimposed onto the Live to give it that EDM feel.
What's been the coolest part of playing music here and worldwide? The traveling? The band camaraderie? The new musical discoveries?
Traveling to places I've only dreamed of going to is definitely a plus. Meeting new players and hearing different voices are always wonderful discoveries. But I think for me, the one thing that trumps them all, is the connection you feel when the band is grooving as one, emoting the same, evoking the same message, working together, finding chemistry that is both heard and felt by the band, me, and the audience. In that moment, life is on pause, and all of us in the room share a common joy, we bask together in the beauty of the moment, knowing full well it will pass, but for now, we all just enjoy it, and enjoy it together.
If you could live your life over again, knowing what you know now, what — if anything — would you do differently?
I happen to believe that God's providence has brought me to this point in my life by design. Did I make some mistakes along the way? Absolutely. But those mistakes helped shape the person I am, created character and taught me lessons I would not have learned any other way. So to try and reimagine going back, I don't really know what I'd do differently. If anything, maybe I would have exposed myself to even more music, more experiences, taken more chances. Not that I didn't take chances. I did. Many. But it is in taking chances that life avails you to things much more wonderful and colorful than you could have ever imagined. It expands your sphere of experience. That is where the spark lives, where truly creative thinking lies. I would like to have done more of that. Thankfully, I still can.
— Carol Banks Weber
From the Winter 2018 issue, Ke Ola O Na Mele