From the Suzuki method to the world stage, this classical-jazz violinist shows he's all heart
"Dr. Suzuki's main idea was that if we put violins in the hands of young children instead of guns, maybe then we can have world peace."
Classical violinist Duane Padilla wouldn't be where he is today without the discovery of a Japanese musician-turned-educator who would level the playing field for children the world over.
Born Oct. 17, 1898 in Nagoya, Japan, the late Shinichi Suzuki's unconventional teaching method went against the grain of traditional thought, that people were either born with musical ability or they were not, and no amount of schooling could change that.
Through compassionate, compelling exposure, listening, and practice, practice, practice, Suzuki proved everyone wrong. His now-famous Suzuki method taught children to play and appreciate music as naturally as they pick up their native tongue.
Padilla himself learned to play orchestral, chamber, and later, award-winning, acclaimed gypsy jazz from scratch with this method, and advocates its organic, intuitive nature throughout his career endeavors overseeing, developing, and supporting educational programs in Connecticut (Tabor Community Arts Center, Bethwood Suzuki School, Wintergreen Magnet School) and Hawaii (Suzuki Association of Hawaii, Suzuki Talent Education of Hawaii boards).
There's more to this long-time union guy and Na Hoku Hanohano-winning artist than academics. He's living proof the Suzuki method works, always putting love of music ahead of ego. As a result, he's thrived, during some tough times, and…he's only just begun.
Padilla's own intuitive, compassionate nature overflows into every piece he plays, from Tchaikovsky to Gershwin, even if, especially if, it's his first, sweet time. Armed with an insatiable curiosity — bolstered by the Suzuki method of his childhood — coupled with a strong work ethic and creative willingness to push himself, even in unknown, strange, nerve-racking situations…who knows, he may very well invent his own musical genre.
Let's find out more about Duane Padilla. Interview follows…
Howzit, Duane. I've long enjoyed listening to Hot Club of Hulaville's gypsy jazz, in the ensemble's many incarnations, as well as the poignant classical violin solo — "Hawaiʻi Aloha" — found on YouTube. You bend musically with the tradewinds, so tenderly, in that solo. And, the way you lead Stevie Wonder's "Isn't She Lovely?" banked up against Tommy James' willowy piano, playing in lockstep key, for Hawaiʻi Public Radio with your trio…it's no wonder you're such a jewel in the crown. What have you been up to lately, especially with artists working around ever-evolving Covid mandates?
Hi Carol! Thanks so much for taking the time to talk story! I feel very fortunate that I have been able to keep busy during this COVID era.
When the virus first hit the islands and everything was shut down, I ended up being quarantined with Hawaii Symphony cellist Joshua Nakazawa and concert violinists Eric Silberger and Mann-Wen Lo. In those first couple months, we decided to spend the time arranging the music of Queen Liliʻuokalani, and ended up recording an album of her music as the Mana Music Quartet. The album is currently a finalist for a Na Hoku Hanohano Award for "Instrumental Album of the Year."
As things gradually opened up a little and as the musical community became more organized, I started teaching swing jazz workshops for numerous virtual online festivals, conferences, and schools like Fiddle Hell Festival (Boston), American String Teachers Association National Conference, and Manila Symphony Orchestra's Youth Outreach Program (Philippines). 
Over the summer, in the brief window at the end of July when things seemed like they were getting better, my Mana Music Quartet friends and I teamed up with the Queen Liliʻuokalani Trust Foundation to start an in-person beginning string program in Kona on the Big Island. With the current Covid mandates, we're continuing the program online this semester with the hope that next semester, we might be able to combine weekly virtual instruction with regular trips to Kona to see the students in person. 
Performing–wise, lately, things are moving back to the livestream performance model. Recent collaborations with Johnny Valentine, Jeanette Trivias, Tommy James, John Kolivas, and the choir at the Lutheran Church of Hawaii have provided a musical outlet and I am very grateful.  
You're a union guy, too. How long? Why do you recommend musicians become Local 677 members? How has the musicians' union helped you, professionally and personally?  
I've been an AFM union member since my student days at Yale. In those early days, the union was a real financial lifeline. Not only did it open the door to freelancing with a large community of regional orchestral ensembles, my twin brother Dan and I performing as The Gemini Duo were able to tap into the AFM's Musicians Performance Trust Fund (MPTF) to perform 40-50 educational concerts a year. Without the union's help, it would have been much more difficult to pay tuition and rent in those early days. In Hawaii, Local 677's office space, particularly Studio 909, has been a godsend. One of my side hustles is that I record high school video auditions for students applying to music school. That space has been a musical home for many recording projects with students, and I'm proud to say that audition recordings made in that space have helped Hawaii students get into all the major music conservatories, like Juilliard, Berklee School, Rice University, Eastman School of Music, University of Texas, and so many others. The room is a tremendous resource that the union makes available for very reasonable rates for students and teachers.
You're known around town for your versatility with violin — as a classical and jazz musician (more about that later). But you're also heavily involved in teaching the Suzuki method for budding violinists. Back before WWII, violinist/educator Shinichi Suzuki developed a way of learning to play music — Talent Education, Mother-Tongue Approach — after noticing the ease with which children pick up primary languages. Suzuki believed that also applied to musical ability, locking in on an organic, compassionate, almost intuitive method of encouraging children to be as musically fluent as they were linguistically.  
How'd you get into studying and teaching the Suzuki method, as a classically trained musician and educator yourself? What have you witnessed in budding young student musicians that proved Suzuki right?
When I was four years old and showed an interest in music, my parents opened up the Yellow Pages phone book and called a random violin teacher. That teacher turned out to be Idell Low, one of the first American music pioneers to travel to Japan to study the method with Dr. Suzuki directly. She is one of the teachers credited with bringing the method to the United States.
My beginning Suzuki class of 15 students (a group of us started studies around the age of four together) was one of the very first generation of American-trained Suzuki violin students. I studied with Ms. Low from four to 18 years old, my entire pre-collegiate training was in the Suzuki way.
Even as a young child, it was obvious that it was a great way to learn music.
In our class, Leila Josefowicz, now a highly regarded violin soloist, was already performing as a featured soloist with the Los Angeles Philharmonic at the age of 10. My best friend Jeanine Wynton, who now performs with the North Carolina Symphony, was playing beautiful Mozart concertos by 10 years old, as well. I have fond memories of Simin Ganatra, founding member of the multiple, Grammy-Award-winning Pacifica Quartet, playing intermediate violin repertoire, like Dvorak's Humoreque, as a middle schooler with so much joy and feeling at our monthly group workshops. One of my fondest childhood memories is performing Ravel's very difficult String Quartet in F with my brother and my high school friends Andrew Kamii and Michael Weisner.  
You went on to develop your own Suzuki public school string program for grades 1-3 at Connecticut's Wintergreen Magnet School. What have been some success stories under your care?  
"Success stories under your care" is a very European conservatory idea and goes against the Suzuki philosophy that every child can not only play violin, but play it well…so I sort of hesitate to answer this question. It is like asking a parent, "Which child do you love more?" One of the students that I taught before moving to Hawaii is now an orchestra teacher of a program with over 200 students. She is indeed a success story. I had a student earn a seat in Carnegie Hall's National Youth Orchestra and she toured China with the ensemble. Afterwards, she went on to the Eastman School of Music and University of Michigan's School of Music, and now is playing and teaching professionally. She, too, is a success story. But I have also had students who rarely practiced for their lessons who later in life found themselves sitting in the balcony of a concert hall about to enjoy a concert and text me, "Hey Mr. Padilla, I'm about to watch this great concert. Thanks for teaching me to love music." That is a huge success story in my book, just as important as the other two.
As a faculty member at Punahou Music School and Chaminade University, is the Suzuki method taught there, too? What are the benefits to learning the Suzuki method that maybe the general public doesn't know?  
Punahou is blessed to have a remarkable Suzuki Violin Program, which is led by Hawaii Symphony violinist Helen Higa. Helen is one of the few remaining American teachers alive that had the opportunity to work with Dr. Suzuki directly and extensively in Japan. (Dr. Suzuki passed away in 1998.) The students have no idea how lucky they are to have the opportunity to work with her.
The main thing that the general public does not realize, and frankly most younger Suzuki teachers have lost sight of, is the fact that the main goal of the Suzuki method is not to train professional musicians. Dr. Suzuki's main idea was that if we put violins in the hands of young children instead of guns, maybe then we can have world peace. If we fill their environment with beautiful things like music, if we teach them how to listen, slow down, how to be careful and caring, surround them with loving people like teachers and parents, they will have a beautiful heart. The technical and artistic virtuosity that often gets everyone's attention is a by-product of having a beautiful heart and wonderful character.  
Besides teaching and community work, you've performed with the Honolulu Symphony Orchestra, New Haven Symphony, and the National Repertoire Orchestra. Your classical chamber ensemble, The Gemini Duo, made the semi-finals at New York City's International Concert Artists Guild Competition. Why classical?
Classical music is my musical mother tongue. When I was four years old, I heard a recording of the Tchaikovsky violin concerto on the radio and just fell in love with everything about it. That day, I promised myself, I would one day play that piece. It's a fiendishly difficult piece. It took 17 years of serious study of classical music to have the technical and artistic ability to even make the attempt to perform it. I still remember the special day when I had finally earned my wings and my teacher said I was ready to try the piece.
"I was shaking as I opened the music to the first page…It's still one of my favorite pieces in the repertoire."
Turns out, you also have a flair for jazz. Lots of classical musicians find jazz a natural turning point — the perfect outlet of discipline, structure, exquisite feel, and creative improvisation. But your intro to jazz happened on the fly, when jazz singer Azure McCall called you onstage to sit in — with your violin! Violin is not usually associated with straight-ahead, R&B jazz (which is McCall's forte). How did you respond?
The "Azure McCall Incident"… I was eating dinner at Chai's with my uncle after an orchestra rehearsal and Azure McCall and Tennyson Stephens were playing jazz. As we were about to leave, Azure saw that I had my violin case with me and called out from the stage, "You don't think you can leave here without playin' a song with us, do you?" I had not really played any jazz before, but from the tone of Azure's voice, it was pretty clear that "No, thank you" was not a possible answer, so I dutifully opened up my violin case. Thankfully, Azure called an easy tune, "Autumn Leaves." And while I had not really played jazz before, I did play a lot on Sundays in a praise band setting, where they never had sheet music for the violin, so the idea of improvising was not entirely new. 
"I remember it was not the greatest solo, and I think I even lost my place in the middle of it at one point, but Tennyson covered up my mistakes with some re-harmonizations, we got to the end, and no one got hurt."
Your next musical move was a spin on guitarist Django Reinhardt and violinist Stéphane Grappelli's Quintette du Hot Club de France from the 1930s. Hot Club of Hulaville proved both popular and award-winning. How much did the violin influence you to try gypsy jazz first?  
Discovering the music of the Hot Club de France was serendipity. Local jazz guitarist Sonny Silva wanted to perform a straight-ahead jazz recital at Hawaii Public Radio's Atherton Performing Arts Studio. But that year, they had already had too many straight-ahead jazz guitar concerts, so the station said no…unless he could find an unusual spin on things. Sonny had a casual familiarity with Django and Stéphane's music. Perhaps, that might be the unusual spin. But he would need to find an improvising violinist to [maybe] make it work. So, he called Honolulu Symphony bassist John Kolivas to see if any of the violinists played jazz. He said, "Not really, but there's this guy Duane who's been following a bunch of us jazz cats around trying to figure it out. Maybe call him." Sonny and I got together and shortly after our first meeting, found ourselves a steady Friday night gig at this Italian restaurant, Café Che Pasta on Bishop St. Our Friday night experiments eventually blossomed into the Hot Club of Hulaville, and the rest is history.
What was it like to win "Best Jazz Album" at the 2011 Na Hoku Hanohano Awards for Hot Club of Hulaville's Django Would Go? It must've been quite…validating.
Winning the 2011 Na Hoku Hanohano Award that year was a really important moment. Right around that time, the beginnings of the Honolulu Symphony's horrible financial troubles started to surface. I had moved out here to play with the Symphony, but so many variables were starting to be unclear. Would there even be a Symphony? What would be my role in it if it re-organized? Did I even still want to be part of it?
"Hot Club of Hulaville proved that there could be a musical life for a violinist in Hawaii beyond the Symphony and winning the 2011 Hanohano Award opened my eyes to an artistic and expressive world that, in many ways, was much more appealing than simply being a rank–and–file violinist in a violin section."
Then, there's your solo jazz album, Sentimental Swing, featuring straight-ahead standards ("Cry Me a River," "Body and Soul," "Green Dolphin Street"), which you did that same year with the late bassist Steve Jones and pianist Tennyson Stephens. Sentimental Swing received props from the South African Jazz Educators Association as a top 40 jazz release in 2011. How did you adapt your classical violin training to these traditional jazz covers?
Actually, growing up in the Suzuki violin method, I did not really have to adapt my approach very much to learn traditional jazz. Dr. Suzuki's idea was that the baby nightingale learns how to sing by listening to its mother sing. So, a lot of one's practice time as a Suzuki student is spent listening to recordings and trying to learn the melodies by ear…not reading sheet music as is done in more traditional violin methods. Jazz is traditionally learned by listening as well.
Following the approach of the baby nightingale, I would follow Steve and Tennyson all around town and listen to them sometimes six-seven nights a week.
"I learned all the standards by listening to Steve and Tennyson, as well as John Kolivas, Bruce Hamada, Jim Howard, Rocky Holmes, Dean Taba, DeShannon Higa, and Robert Shinoda. These guys were so kind and generous, and at the end of the night, they would often let me sit in on a tune or two, just to try. In the beginning, it was awful. But they were so patient and encouraging. I owe my career as a multi-styles violinist to these guys and I'm forever grateful."
When it was time to record the solo album, I had been listening and sitting in with Steve and Tennyson so much that we did not need to rehearse. We just showed up to the studio, played each song twice, and the best take ended up on the album.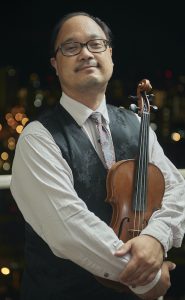 You've also performed with musical kings, jazz ukulele player Ben Chong, Grammy-winning Hawaiian slack key guitarist Jeff Peterson, Hot Club of San Francisco guitarist Paul Mehling…opened for jazz guitarist/vocalist John Pizzarelli and British jazz fingerstyle guitarist Martin Taylor. Any special moments that thrilled you as a musical fan?
The highlight of my musical career has to be classical violinist superstar Rachel Barton Pine's 2019 Showcase Performance at the American String Teachers National Convention. Rachel, the master of Bach, Beethoven, and Brahms, is also a huge heavy metal fan. So, for the third set of the concert, she decided to put down her priceless Guarneri violin and pick up her Electric, Seven-String, Flying V–Shaped Viper violin and end with a heavy metal set.
"For the final piece, she had this idea to play Black Sabbath's 'Paranoid,' and in the middle section, invite an All–Star list of 20 of the best electric fiddlers to join her onstage to take a solo…and somehow, I got on this list!"
So many heavy hitters of the electric fiddle world: Mark Wood (founding member of the Trans-Siberian Orchestra), Darol Anger (Turtle Island String Quartet and beyond), Martha Mooke (electric violist for David Bowie), Chuck Bontrager (concertmaster for "Hamilton"), Tracy Silverman (electric violin pioneer), David Wallace (dean of the String Department at Berklee School of Music). The order of soloists was alphabetical, so I was supposed to go after bluegrass superstar Mark O'Connor and his wife Maggie. So many emotions: inspiring, frightening, humbling all at the same time, to be onstage with all of my musical heroes.
The funny ending…there were so many electric violins onstage that it caused a catastrophic failure of the sound system. They sort of were able to fix it enough to play the song. But the sound system sounded soft and terrible. But luckily, I was the only one that thought to bring my own amp and I cranked it up all the way to fill the hall, so everyone said that my solo sounded the best!
What would you like to try next…opera-funk-reggae? EDM-world music? Americana-blues? The world's your oyster, Duane!
I think my next musical adventure is going to involve a fancy seven-string electric fiddle like Rachel's. I'm building an effects pedal board with loopers and other gadgets. Unsure what genre this gear might take me…but for sure it will be a fun adventure.
From the Fall 2021 issue, Ke Ola O Na Mele